Electric cars are a triple win for climate, clean air and the economy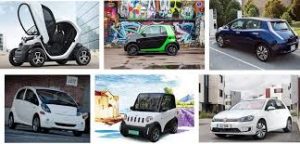 The production of electric vehicles is still more expensive than the production of their gasoline competitors, but policy changes and market expansion can quickly change in favor of electric vehicles.
Technical and economic studies show that the average cost of electric cars can become the same as that of cars with ice over the next 8 years and even earlier. When fuel economy is taken into account, electric cars may be cheaper in some markets, and automakers may make profits comparable to or greater than gasoline-powered cars by 2025 or earlier.
In order to achieve a reduction in the price of electric vehicles, it is necessary to constantly expand the market and increase competition, which leads to innovations in design and production, as well as to take key policy decisions to stimulate the purchase of electric vehicles, in particular to give access to benefits and discounts for the purchase of electric vehicles, to regulate CO2 emissions standards and vehicles that encourage an increase in the supply of electric vehicles, and to invest in a charging infrastructure that makes driving electric vehicles more convenient.
Not only can electric cars reduce emissions that contribute to climate change (even on fossil-fuel power systems), they will also save individuals, governments and society trillions of dollars while reducing respiratory diseases and mortality.
So why do so many people continue to believe that electric cars are too expensive? Partly to blame the joint misinformation campaign of those who can lose. Even dispassionate analysts sometimes fall into the trap of considering only short-term costs, with some believing that every ton of greenhouse gases exposed to electric vehicles will cost hundreds of dollars. These estimates generally do not take into account the potential for cost reduction resulting from policies that stimulate market expansion.
If we hope to limit the damage from climate change, sales of electric cars should exceed sales of cars with ice in the next 10-15 years, which implies almost the same growth rate as that of smartphones over the past decade.
Going beyond cars and trucks, the promise of lower cost on batteries and electric motors can also economically transform buses, delivery vehicles, and perhaps even long-range trucks.
How to develop the global market for commercial electric vehicle segment
Electric cars are a triple win for climate, clean air and the economy. To take advantage of these advantages, strategies are needed that further expand the market. In the not so distant future, electric cars will be associated not only with luxury, but also with necessity.