BNEF: by 2040, almost 60% of new car sales will be electric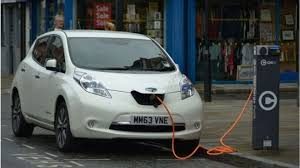 According to estimates by Bloomberg sales of fuel and vehicles has already peaked, and perhaps never more to rise, because the price of batteries fell. The increase in the number of electric vehicles, in turn, means that the peak demand for oil can come in just 10 years.
According to a new Bloomberg NEF report, oil demand is projected to peak in 2028 for passenger cars and in 2035 for commercial vehicles. The rapid growth in electric vehicle sales will cause a slowdown, a peak, and then a drop in oil consumption. Oil prices and the cost of investment in oil companies will fall.
Also, the BNEF report indicates that the speed of introduction of electric vehicles is so high that by 2030, sales of electric vehicles will reach 50% of new cars in China and Europe and about 40% of sales of new cars in the United States.
By 2040, BNEF expects almost 60% of global new car sales and almost a third of all cars to be electric.
First of all, this will be due to the sharp and continuing fall in the price of batteries. From 2010 to 2018, the average lithium-ion battery fell in price by 85%, from $1160 to $176 per kWh.
BNEF predicts that the sharp drop will continue and average battery prices will reach $62 per kWh by 2030 — a 65% drop from 2018 prices.
In addition, as cheaper batteries will increase the range of electric vehicles — 500, 650 and even 800 km.
The time required to charge the battery will also be reduced. Some modern electric vehicles, such as the Audi e-tron quattro, require less than 20 minutes to charge the battery to 80% capacity, and new chargers will further reduce this time. In the end, the next generation of batteries can be charged in 3-5 minutes.
This rapid development of battery technology and the introduction of electric vehicles, combined with the rapid decline in prices and the pace of renewable energy, means that the world can get rid of carbon transport faster and cheaper than we thought just a few years ago.
Finally, we note that a significant role in increasing the number of electric vehicles will play a policy, but rather the adoption of more stringent environmental standards, which in fact will not leave a choice or alternative to electric cars.
BNEF includes both fully electric cars and plug-in hybrids in its list, but in General electric cars will make up the vast majority of the electrified car segment.
Recall, the car columnist Wall Street Journal Dan Neal said why buying a new car with ice will be financially unprofitable and the global demand for cars with ice is already falling against the backdrop of growing sales of electric vehicles.