The debate over electric cars is raging among the world's largest automakers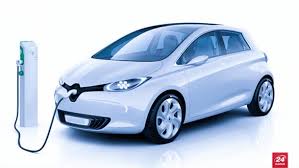 Among the largest automakers in the world are raging debate about electric vehicles. Some believe that electric cars produced by companies other than Tesla have a chance of becoming a hit, while others think that manufacturers will not be able to sell electric cars at a profit.
Toyota contributed to the start of the movement of "green cars" with its hybrid Prius more than 20 years ago, but the company is not so optimistic about the American consumers of electric vehicles. Bob Carter, Executive Vice President of sales for Toyota Motor North America, said at a conference dedicated to the new York motor show that batteries are still too expensive and make electric cars inaccessible to many buyers.
"As for electrification, we see the possibility of its promotion in North America, but it will not happen soon," Carter said at a forum organized by the National Association of car dealers. "A car with ice today costs $34 000, many electric vehicles have a battery worth $34 000. No savings."
Carter expressed his opinion about electric cars about an hour after Scott Keogh, Executive Director of the American division of Volkswagen AG, told the same audience of car dealers and industry leaders that Tesla has proven that electric cars will conquer the market and remain on it for a long time. VW plans to sell electric cars worldwide, debut in the US will begin in 2022.
The German giant, still facing the consequences of its diesel scandal that erupted almost three years ago, plans to build a small all-electric car, investing $ 800 million in its Assembly plant in Chattanooga, Tennessee.
As Keogh noted, even if electric cars make up only 10% of the car market, this is a chance to be used. Speaking about the success of Tesla and its sedan Model 3, he said: "In the history of the automotive business was not yet a company that in a few years would rise from zero to fourth place in the production of luxury cars."
Electric cars are a big gamble for automakers. Many are looking to enter the market with electric models to meet more stringent emission standards around the world, especially since Tesla Model 3 began selling last year.
In total, automakers will spend $ 255 billion on the production of electric cars by 2022, according to the consulting firm AlixPartners.
According to Keogh, General Motors will be a key competitor in electric vehicles. The Detroit automaker said it plans to sell 20 models of electric cars worldwide by 2023.
Carter, after his speech, said Toyota would sell the electric model in the US, but declined to say when. "It's going to be a slow evolution in the us market, unlike China and Europe, where there are government regulations accelerating electrification," Carter said in an interview, adding, "no One is selling electric cars at a profit."