Geneva motor show: the electric car revolution could begin before Europe is ready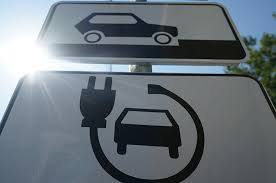 The Geneva motor show 2019 is a car show where they say the electric car revolution is about to begin. Sales of electric vehicles are growing rapidly, but in comparison with cars with ice they are still low. European Union regulations that require automakers to produce electric vehicles in accordance with fuel efficiency regulations can open up a lot of opportunities for sales to Chinese manufacturers that already produce cheap electric vehicles.
According to the German car control Center (CAM), global sales of electric vehicles in 2018 amounted to 2.1 million, and in 2019 will grow to 2.8 million.
According to the French company Inovev in 2018, China was the largest market with just over 1 million sold electric cars, and Europe — the second with 386 000, and then the US with 359 000. And while we are waiting for a breakthrough, there are new reasons why this will not happen yet. So far, the excuse has been that the prices are too high, the power reserve is too limited, and the infrastructure is not yet developed.
The electric car market already has a large selection, and models like the Tesla Model S, X and 3, Audi e-tron quattro, Mercedes-Benz EQC, Jaguar I-Pace and the future Porsche Taycan are still too expensive to make an impact on the mass market. There is a lot of doubt about electric cars. The cost of electric vehicles is high, so buyers are still in thought. Manufacturers also understand that the production of electric vehicles deprives them of a huge flow of profit.
There are several examples of electric vehicles for the mass market, presented in Geneva. Presented almost production version of the Honda e Prototype to compete with the Nissan Leaf and Renault Zoe. The new Peugeot e-208 hatchback is now available in the electric version. Kia is launching a new version of the e-Soul, which will be sold in Europe only in the electric version. Citroen Ami One is just a concept, but it can lead to really cheap city electric cars.
Citroën Ami One
Peter Fuss, partner of the EY Global Automotive Center in Frankfurt (Germany), believes that time is needed for the development of the electric vehicle market.
According to fuss, 2019 will be an important year when many automakers announce many new electric vehicles for the mass market. Currently, many of the announced electric vehicles are not yet available for purchase. Therefore, the show in Geneva will not yet indicate that the revolution of electric vehicles will cover the mass market in 2019. The mass market of electric vehicles will grow steadily, but at a lower rate.
According to Professor Stefan Bratzel (Stefan Bratzel) from the control Center by car (CAM), the main problem for automakers is that the regulatory acts of the European Union force them to avoid diesel cars, and they will not be able to quickly meet the demand for cheap electric cars. This situation will only benefit Chinese companies, which currently produce a relatively large number of cheap electric cars.
According to Bratzel, there will be a large market of affordable electric vehicles with a power reserve of 100 to 120 kilometers. The Chinese are more or less specialized in low-cost electric vehicles, and this may give them a chance to successfully enter the European market.
Felipe muñoz (Felipe Munoz), global automotive analyst JATO Dynamics, agrees. According to him, the concepts of electric vehicles at the exhibition are very good, but they are needed today, not in three years. EU regulations on CO2 emissions open the door to China, which creates an ideal scenario for entering the market for their cheap electric vehicles.
Peter Wells, Professor at the business school of sustainable development in Cardiff, says that sales of electric vehicles are growing rapidly, but the problem of their price remains. Although the market for electric vehicles has not yet entered a phase of rapid growth, 2019 will be decisive. Starting in 2019, electric cars will no longer be seen as niche products for the elite. The price range equation is indeed a necessary step for electric cars like the latest Nissan Leaf.
A limited number of batteries hampers supplies. Electric vehicles such as the Kia e-Niro and Mercedes EQC cannot be produced quickly enough to meet the growing demand for them. The benefits of buying new electric vehicles, technological upgrades on later models, and uncertainty about battery life diminish the importance of electric vehicles.
Wells believes that the charging infrastructure in Europe is well developed. And automakers are fighting for profit from electric vehicles.
Dan Coffey, an economist at the business school of the University of Leeds, said that manufacturers preparing for the production of electric vehicles face a big financial problem.
"The old business model had 2 profit options: profit from the production and sale of cars and profit from the maintenance of cars. Since electric cars need virtually no maintenance, will radical changes occur in the underlying business models, in the absence of large government subsidies to commercial prospects more complicated than many people think," said Coffey.
Electromobility requires new ways to build a business.
In Coffey's opinion, companies should become service producers that will retain ownership of the car by leasing their fleets to individual businesses/companies for private use. This would create new profit centers that would replace the disappearing ones.
As more and more European cities are banning diesel cars, and EU fuel-saving regulations are making it too expensive to produce small cars, it may be that the Citroen Ami One concept is the future. According to representatives of Volkswagen, by 2025, 25% of its global sales (currently about 2%) will fall on electric vehicles, which may be the only viable option.