All official electric vehicles of Ukraine: prices, specifications, specifications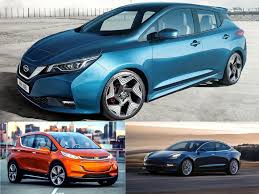 The level of popularity of electric vehicles in Ukraine and legislative initiatives that contribute to the further popularization of eco-friendly cars in the country, are increasingly forcing dealers to think about the official import of electric cars, creating them equal to the ice-car conditions for the sale, warranty and service. Already now a number of importers officially sell models of electric vehicles in Ukraine and further plan to expand their representation in the market.
What electric cars can be bought in Ukraine officially in 2019?
BMW
Electric car BMW i3 2019 (42.2 kWh)
BMW i3 2019 (42.2 kWh)
The Bavarian brand was among the first to officially start selling electric cars in Ukraine. The line of electric vehicles of the German concern is currently represented by models:
BMW i3: price 974 340 UAH
BMW i3s: price 1 055 007 UAH
There are also 2 versions of the model with an increased power reserve BMW i3 REX (1 340 613 UAH) and BMW i3s (1 442 311 UAH). Both are much more expensive, as in contrast to conventional electric vehicles in their price includes customs duties.
Hyundai
Hyundai Ioniq Electric Car
Hyundai Ioniq Electric (28 kWh)
Electric car, Hyundai Electric Kona "Long-range»
Hyundai Kona Electric "Long-range" (64 kWh)
The Korean brand is officially represented in Ukraine by two models of electric vehicles:
sedan Ioniq Electric: price 806 300 – 832 600 UAH
crossover Kona Electric: price 892 400 – 951 900 UAH (for the version with a battery of 64 kWh must pay 219 600 UAH)
The latter has already become a bestseller of the company in the Ukrainian market, when the first batch was sold out on pre-orders on the day of delivery.
Renault
The electric car Renault ZOE and Kangoo Z. E.
Renault ZOE and Kangoo Z. E.
Electric range Renault in the domestic market is represented by a commercial van Kangoo Z. E. 33 in three configurations: Express — 1000 900 UAH, Maxi — 1 018 200 UAH, Maxi Pass — 828 300 UAH. Also recently in Ukraine was officially available the most popular electric car brand — Renault ZOE, the prices of which began with a mark of 868 600 UAH. However, the warehouse of electric vehicles of the current generation was sold out, plus from the end of June this generation is no longer available. In autumn, sales of a new generation model in Europe will begin, which will appear in Ukraine early next year.Jaguar
Jaguar I-Pace Electric Car
I Jaguar-Pace
The British brand is officially unveiled at the electric mobility market of Ukraine premium crossover Jaguar I-Pace, which sales will start at the price of 1 983 366 UAH. Electric car shows excellent sales in Ukraine despite its luxury status.
Kia
Electric car Kia Soul EV
Kia Soul EV (27 kWh)
The Kia company is officially represented in Ukraine by the Soul EV electric car, the price of which starts at 772 018 UAH.
JAC
Electric vehicle JAC iEV7S
Electric vehicle JAC iEV7S
Chinese electric cars, which are in abundance in her home market, can export. However, in Ukraine there is an official electric vehicle in China, namely JAC iEV7S cost 680 000.
At the moment, this is the entire list of electric cars officially presented in Ukraine. However, in the near future we should expect a serious replenishment of electric "official", in particular crossover Audi e-tron quattro and Porsche Taycan, as well as other updated models of the above brands.